A huge thank you and some exciting news...
Posted on
We would like to thank all of our loyal customers for your continued support over a difficult period after the second break in, here's to happier times and news!!!
Firstly we would like to say a huge thank you to all of you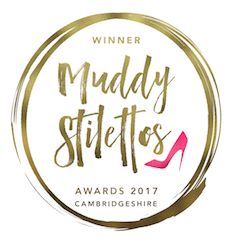 who voted for us recently in the Cambridgeshire Muddy Stilettos Awards for "Best Children's Store" we were delighted and very humbled to win! We wouldn't be where we are now, without all of your continued support and recommendations - it really does mean a great deal to us all here at BabyBe: We're looking forward to the winners awards and celebrating with all the other fantastic local businesses!
Secondly, Katy and Jon have also welcomed into the world their fourth baby boy, Reu! The whole family are besotted with him, after his surprise arrival in April. Both mum and baby are very well and Katy is doing a fantastic job of product testing!
And finally we are very excited to now have a presence back on the High Street in St Neots after so many requests, in Button Knit (Previously Barratts). You will find a range of our Best Sellers plus a few of our new arrivals. They have also kindly agreed to be a collection point so if you are wanting any shoes, clothes, nursery equipment and decor from the Offord store we can send it over for you to collect in St Neots! Just phone, email or message us and we can arrange!
Phone BabyBe: 01480 819317
We look forward to updating you all more soon with exciting new products