The story of the Bugaboo Cameleon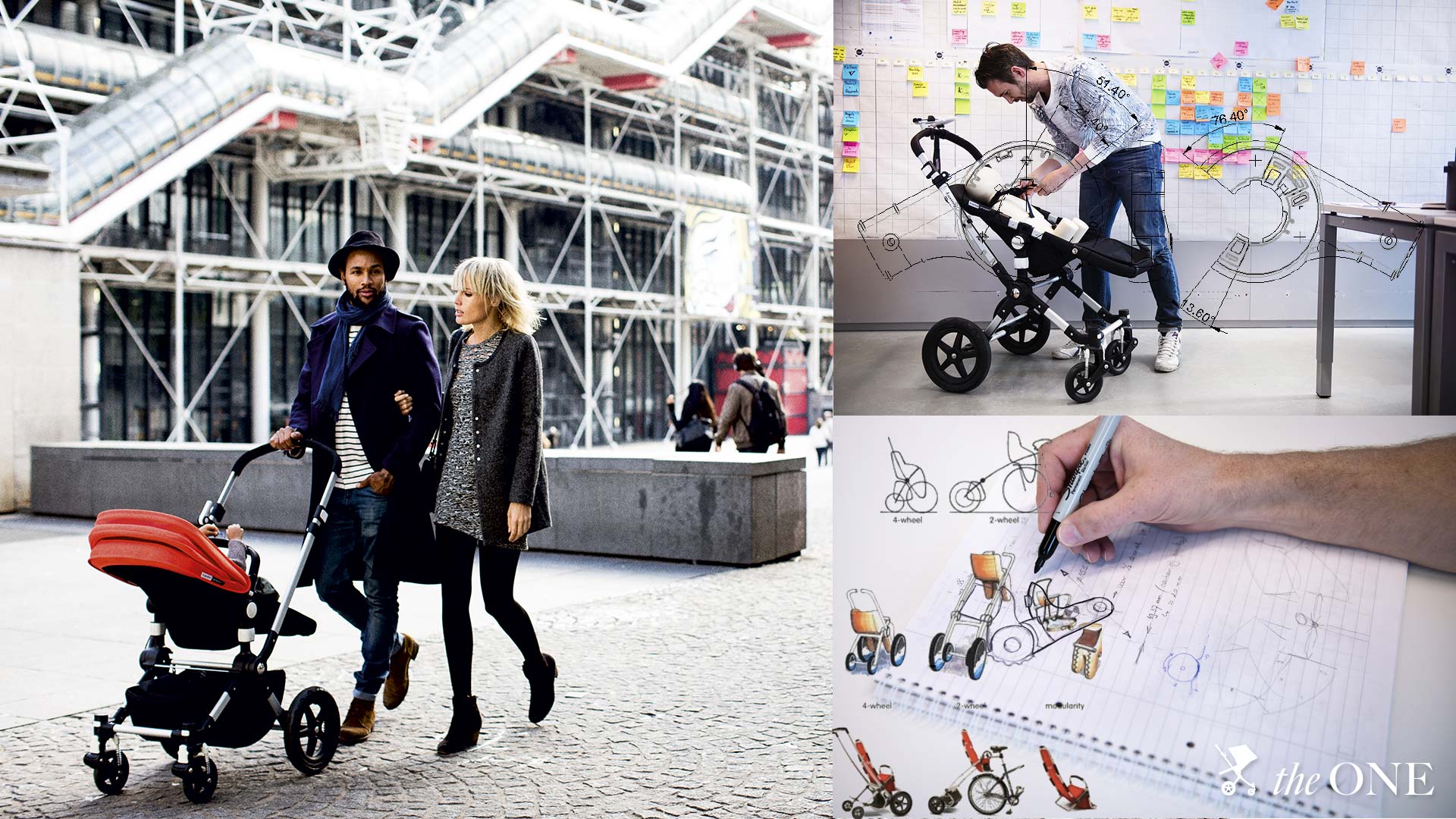 The One that became an icon
The story of the Bugaboo Cameleon
The Bugaboo Cameleon3 is the original stroller." says its inventor Max Barenbrug, co-founder of Bugaboo. He tells us what it is about the Bugaboo Cameleon3 that makes it such a well-loved stroller - and an iconic piece of design.
The first Bugaboo stroller was introduced in 1999, with the idea to create the perfect all-in-one: a stroller that's flexible enough to go anywhere and everywhere. This was the blueprint for today's Bugaboo Cameleon3, which remains unbeaten due to its simplicity, versatility and high quality. In fact it's still our best-selling stroller - after more than 15 years.
Since its conception, technical details have been tweaked and improved countless times, but the shape, silhouette and essential design is still the same.
Back to the beginning
Max: "What initially led to the invention of the Bugaboo Cameleon was my surprise at the types of strollers I'd see on the street. Everywhere I went, I would see people struggling to fold and even use their strollers. And they all looked old fashioned and similar with infantile colours, cumbersome white wheels... There was nothing desirable about these products at all."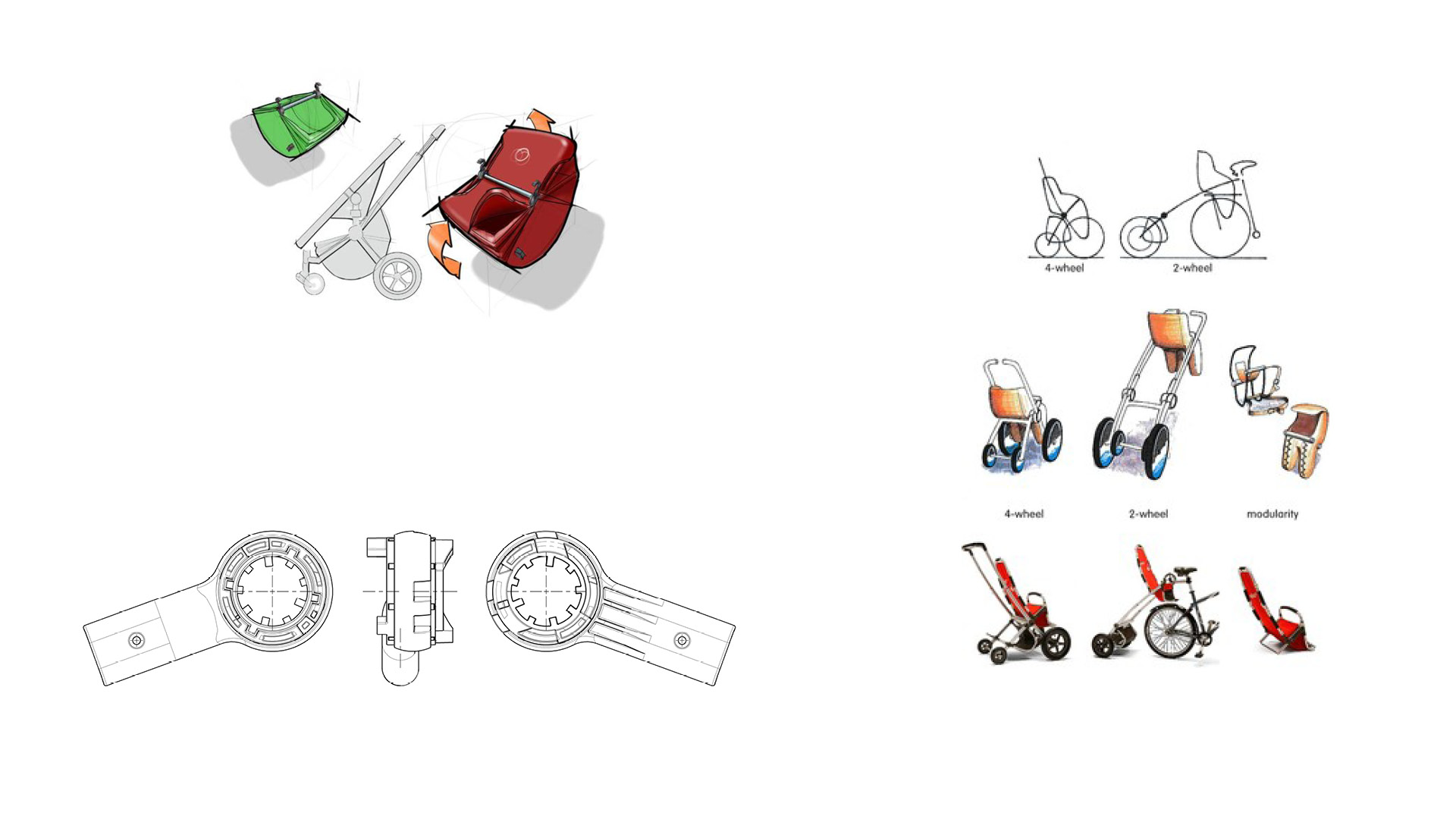 And so, Bugaboo was born and quickly turned the industry on its head by creating a stroller that fits a modern lifestyle - and appeals to both men and women due to a robust design and the use of sturdy materials. "What we did was - and still is - revolutionary, because it was totally different," continues Max. "Back then, strollers were designed by men, who were guessing what women wanted. I wanted to create something completely new, something that you would feel proud of owning, and that would turn those early years together with your child into an adventure."
Max: "We want parents to feel free, so we gave them an all-terrain stroller with large wheels and real suspension, so that they could go off-road. We gave them an independent seat, so that they could take that seat everywhere. Most importantly, we imagined all the different ways that parents might want to use their stroller. From the city to the woods, through sand and snow, we ensured that they could go anywhere with the Bugaboo Cameleon3."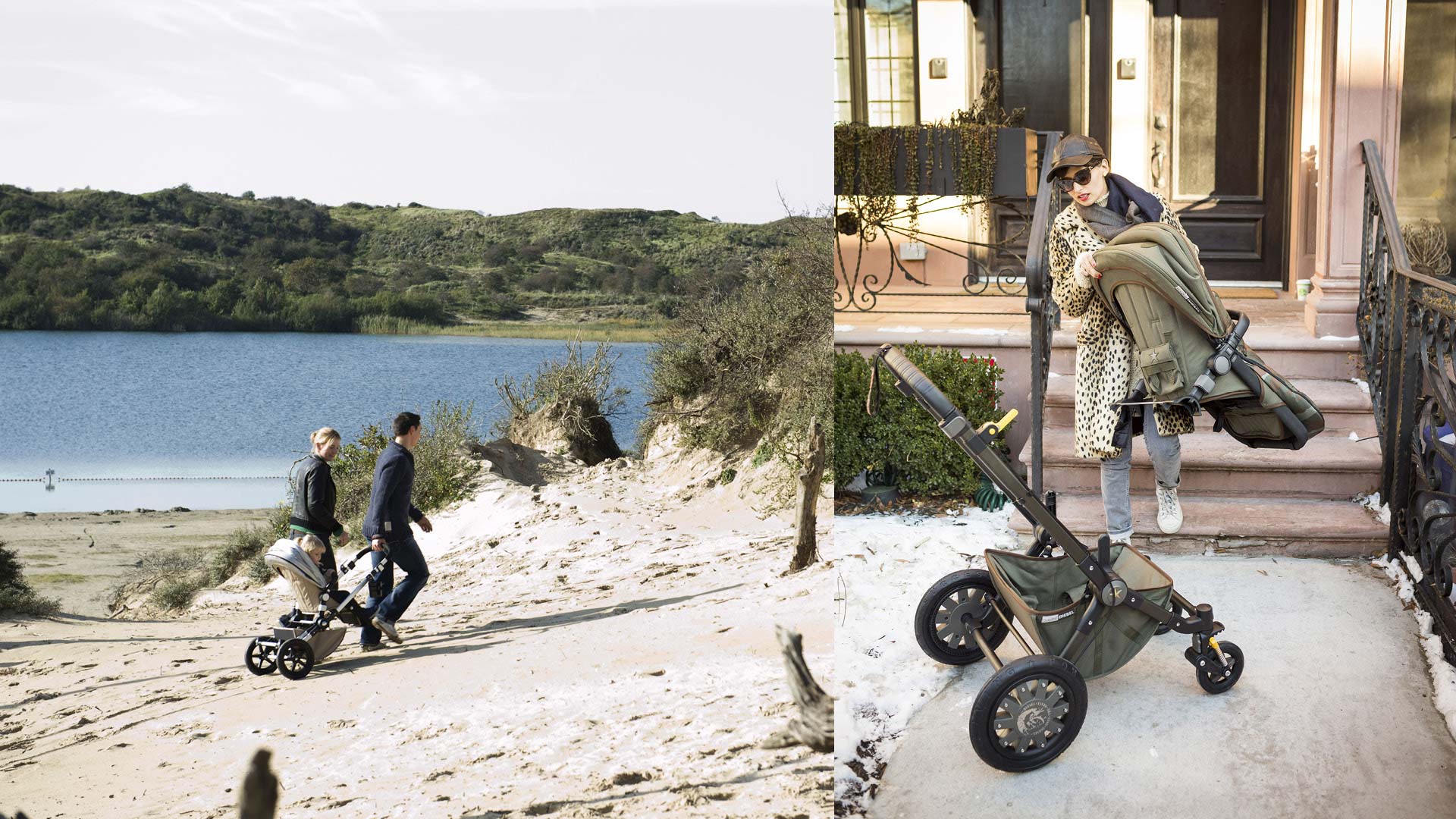 The iconic central joint
The central part of the Bugaboo Cameleon3 is, well, the central joint. That's what makes it completely unique. Both in terms of functionalities, and in terms of aesthetics. The central joint is the mechanism that brings a very complex structure into a very simple and clean axis. Although it may look sleek and simple, inside is where the magic happens.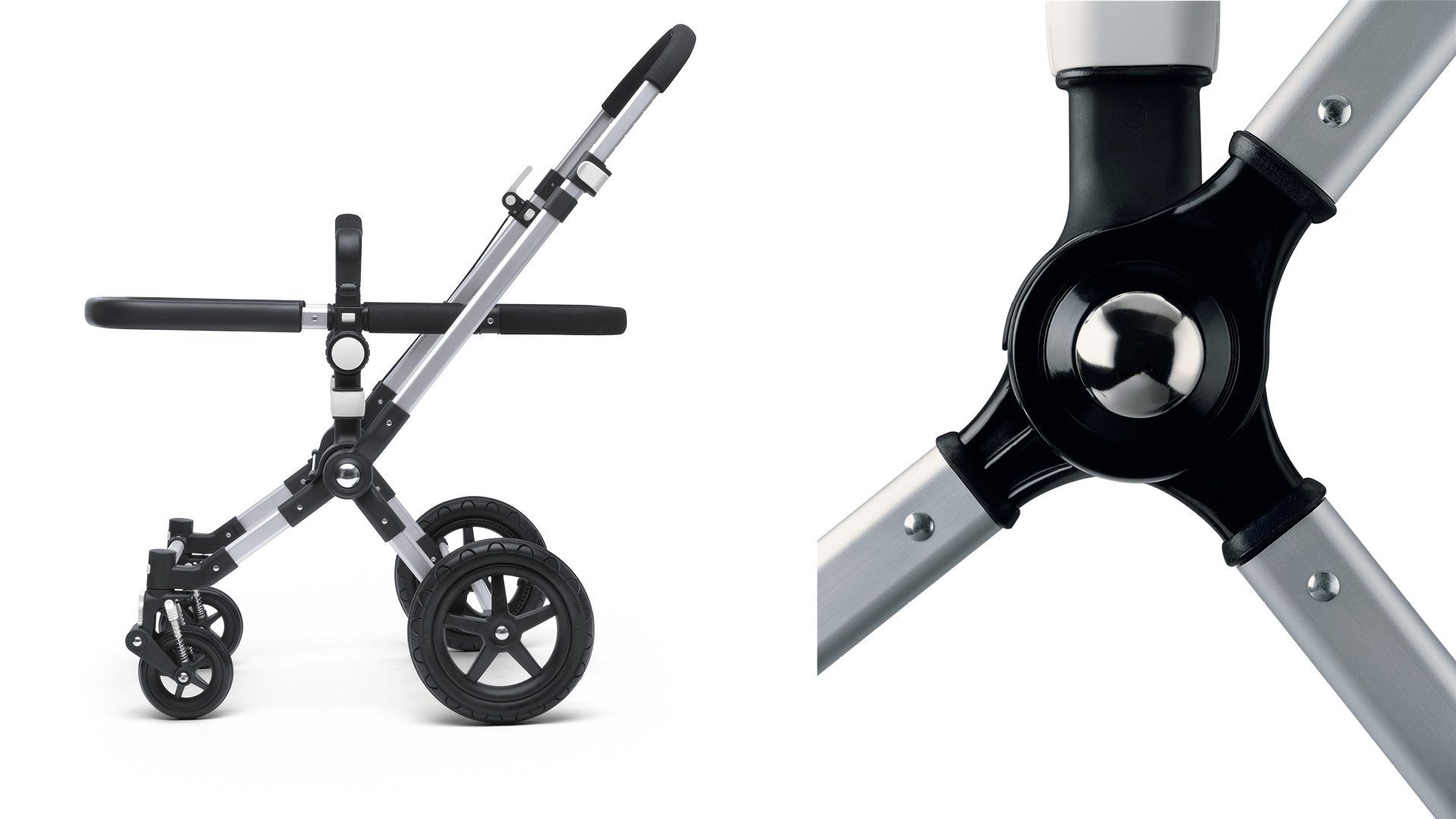 This is what makes the Bugaboo Cameleon3 multifunctional, in other words it enables all the different configurations. The central joint links all the functionalities: the brake, the two-wheel position, the reversible handlebar, the two piece fold... Also it gives the Bugaboo Cameleon its instantly recognizable shape and silhouette.
Max: "The central joint is the key invention. It's all about bringing something very complex back to simple shape, where everything is integrated inside. This is what made the Bugaboo Cameleon3 into a design icon. You immediately understand how it works just by looking at it; it's self-explanatory."
So is it only the central joint that made the Bugaboo Cameleon3 into a design icon? Or is there more?
Max, again: "The Bugaboo Cameleon has become an icon because it completely changed the look, functionality and desirability of strollers. Not just for our own company, but throughout the whole industry. We first created this new type of stroller back in 1999 - and where we went others followed. Well, they say that imitation is the sincerest form of flattery, don't they?"
As further proof to its iconic status is the fact that it has featured in a number of design books over the years, it had a 'starring' role in TV series Sex and the City in 2002 - and has even been featured on a series of postage stamps. Not bad, considering that when its inventor first started designing, strollers were seen as a boring utility product made just for going from A to B...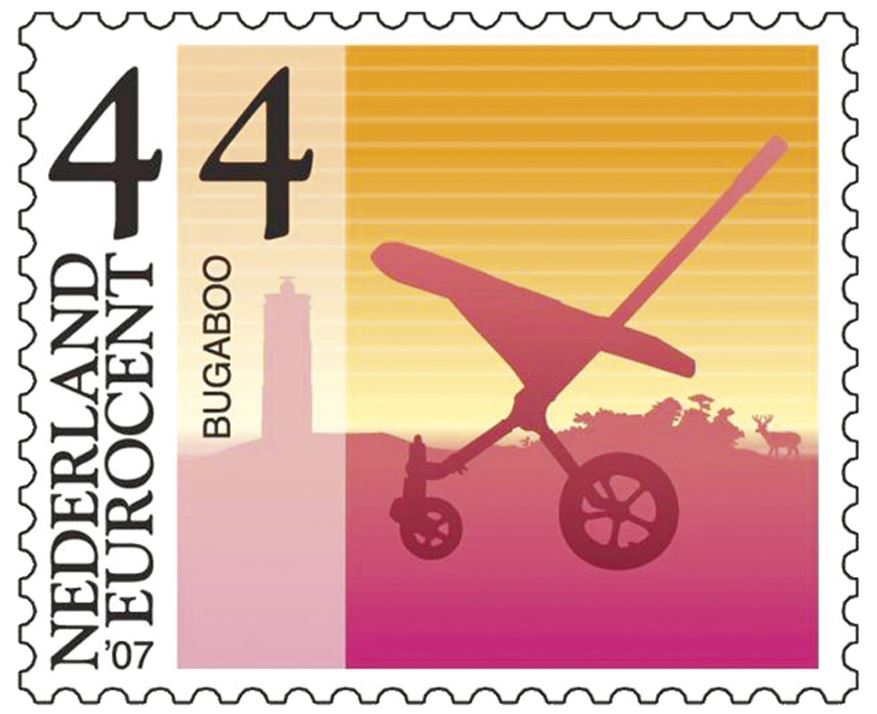 Max concludes: "Ultimately, creating a design icon is all about bringing complexity back to its simplest form, and at Bugaboo, that's what we're good at. We make things possible that didn't exist before!"
An icon in numbers
Approximately 475 separate pieces are put together to make a Bugaboo Cameleon3.
A total of 393 different models of the Bugaboo Cameleon have been produced since the first one, including all the different colours, designs and special editions.
The Bugaboo Cameleon3 has been tested to ride at least 9000 kilometers, or 5592 miles, which is roughly the distance from Amsterdam to Shanghai.
This icon is on sale in stores in 51 different countries.
Most importantly, well over one million children worldwide have loved their journeys in their Bugaboo Cameleon so far.